Accomplishments
EYFO Alumni Accomplishments Since 2001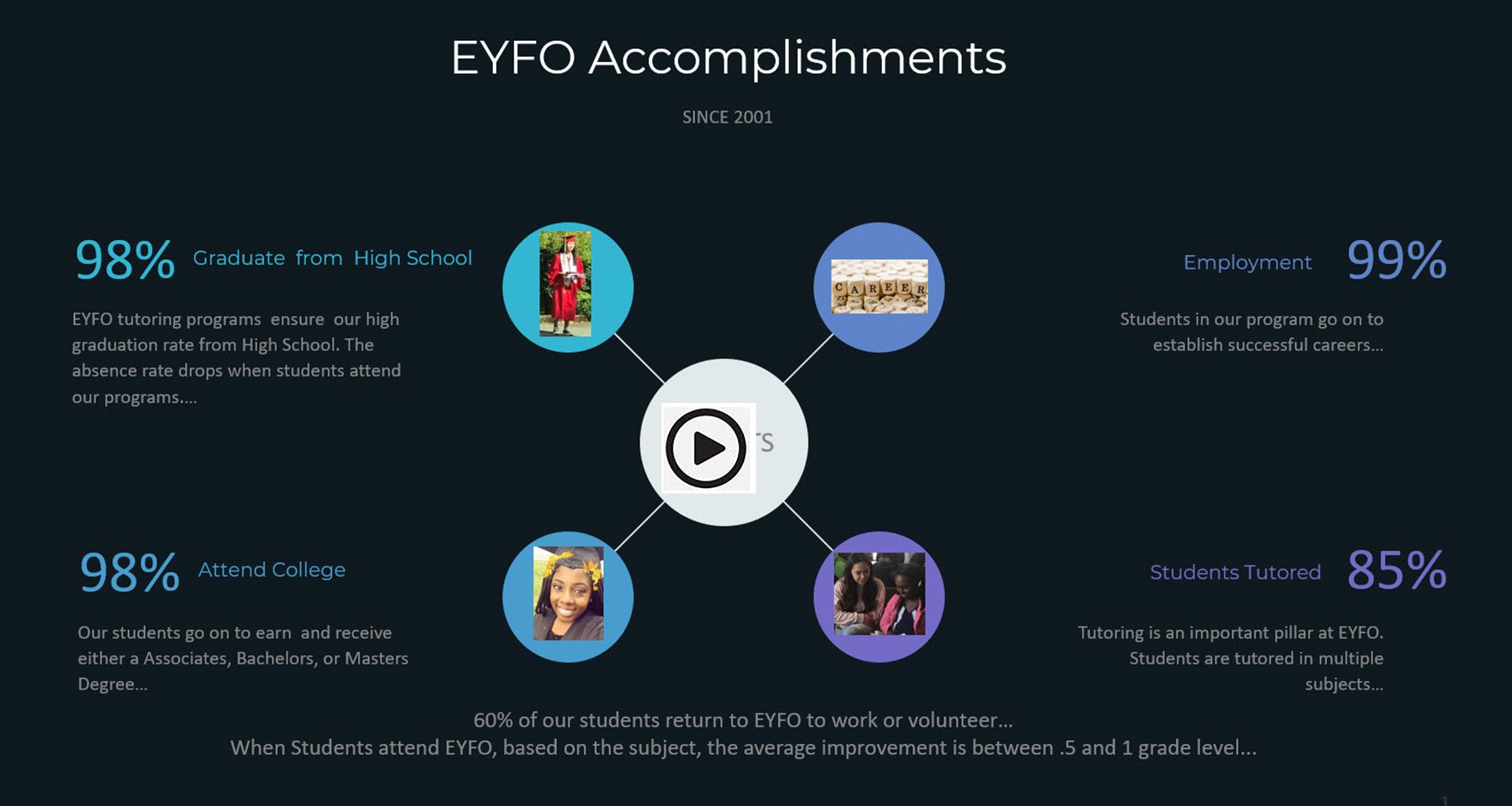 EYFO Additional Accomplishments
EYFO Alumni
EYFO provides intentional guidance to our students during their time with us. We are proud of our results! Have you ever wondered what happens when a student leaves EYFO? Wonder no more. Click here to see where some of our students went!
Educational
Awarded 20 college scholarships
Served over 4,000 youth since 2002
Coached over 1,000 athletes in basketball and track
Hired and taught over 100 Junior/High School  students in intern positions where they learned leadership development and training
Trained 100's of youth with Character Building and Resiliency traits through our yearly "Empowering the Next Generation "conferences and overnight camps
Outreach
Led 100's of youth in services including creating yearly free clothing drives for families in the community, along with feeding, providing goods including toiletries  to the homeless
Partnered with "Vision of Togetherness Ministries" to provide pen pals and sponsor children attending school in Kampala, Uganda
Service Trips
Traveled to Belize with 9 clients to serve at an orphanage
Traveled with 65 youth to Los Angeles, New York, Washington DC for educational trips and college tours
Traveled to San Francisco, Marin Food Bank to serve with 8 youth in service-learning
Traveled with 40 clients to Los Angeles, California to serve at the Los Angeles Dream Center Learning
Workshops
Our youth has participated in two educational programs at the University of Washington, Doctor for A Day and the Law Academy
Trained over 100 parents with parenting skills in our "Strengthening the Family" parenting workshops
Experiential and Athletic
Taken youth on memorable trips such as Disneyland, LegoLand, SeaWorld, Holy Land, Universal Studios, SilverWood theme parks, Great Wolf Lodge, Seaside Oregon, Warm Beach Camp, and Black Lake Camp
Traveled with over 480 youths to participating in:

USATF Track and Field
Junior Olympics
Hershey Track and Field meet, including: Indianapolis IN, Baltimore MD, Eugene OR, Kansas City KS, Omaha NE, Spokane WA, Miami FL, Sacramento CA, Los Angeles CA, Reno, NV, Greensboro NC, Houston TX and Hershey PA.