Testimonials
Alex Taylor, Past Participant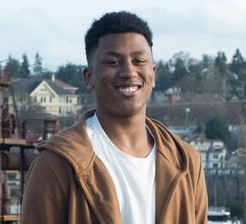 "Hi, my name is Alex Taylor I graduated from Cleveland High School.  My first time meeting the founders of EYFO was when I was 8 yrs. old. A group of my friends wanted to have a basketball team but did not have anyone to coach us. One day we were in the gym playing with a girls' team because they had a coach, when a man walked in and said "Hey young men what's going on" the girls coach which happened to be his daughter told him we were playing with them because we had no coach he then said "Well I guess we are going to have to fix that". That Man was Mr. Shoecraft, Coach John to us. From that day forward the EYFO family has played a huge part in my personal, athletic and academic future.
I have learned from them importance of hard work, commitment, loyalty, and most importantly responsibility to myself, family and the community in which I live.
Commitment as an athlete to my team and working hard to, as Coach John would say "Soar Like Eagles" from that I with my teammates won Seattle Parks and Recreation Basketball League Championship 4 yrs. in a row. I participated 3 times as an individual and with team members on a 4x4, At the USA JR Olympics. We worked as a team to raise funds for those less fortunate to travel to such events. I have traveled to places that without them I may have never gotten that opportunity to experience.
With responsibility comes hard work which I applied to my academics this was often told to us and shown through EYFO commitment to giving us opportunity through mentorship and tutoring to help us excel in our academics, also by always encouraging and telling us we can achieve anything we set our minds to. My mind is set on higher education and now the decision is which one of the theses' schools, I have been accepted to, will I attend UW Bothell, WSU, Oregon State or the UW Seattle Campus. I will pursue a degree in Information Management "Informatics".
I feel my next journey after high school will be a successful one and I'm glad to have EYFO as part of my foundation and a resource for my future."