Fred Meyer Community Rewards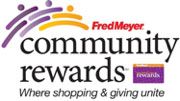 You can support EYFO through the Fred Meyer Rewards Program where you can earn donations for EYFO by shopping with your Rewards Card. Here's how it works:
Log in to your online account and link your Rewards Card to EYFO. You will continue to receive Rewards Points, Rebates and Fuel Points.
At the end of each quarter, Fred Meyer will donate to EYFO based on the accumulated spending of the Rewards customers linked to EYFO.