EYFO Partners with Bellwether Housing
EYFO Childcare Center - Opening Fall 2023
EYFO is thrilled with our continued partnership with Bellwether Housing on Rose Street II, a 186-unit affordable housing development adjacent to the Rose Street Apartments on Rainier Avenue South in Seattle WA. EYFO is currently located in another Bellwether development (Rose Street l) also located on Rainer Avenue South.
Highlights of the development include an 8,000 square foot child care center operated by Empowering Youth and Families Outreach. This expansion will allow EYFO to serve a greater number of students (127) which will include preschool, toddlers and school age youth.
This development will include multi-bedroom floorplans for families, a community room, an outdoor courtyard and play area, along with commercial space.  The project is expected to be complete in 2023.
2021 GiveBig Campaign May 4-5

Mark your calendars for GiveBIG 2021!
GiveBIG Washington returns on May 4-5, 2021. While the two-day event this year was prompted by our partnership with #GivingTuesdayNow, having a two-day event really prompted an influx of additional donors. Further details for the campaign will be shared ahead of event.
•     What is GIVEBIG Washington?
GIVEBIG Washington is a two-day online giving event of all sizes to raise funds for nonprofit organizations serving Washington State. 
•    When is GIVEBIG 2021?
GIVEBIG 2021 is Sunday, May 4 from midnight to midnight Monday May 5 Pacific Time.
•    Is there a minimum donation amount? Is there a maximum donation amount?
The minimum donation amount is $10. There is no maximum donation amount.
•    How do matching funds work?
EYFO can maximize GIVEBIG's potential, with your help, when you secure matching funds from the company you work at; you will double to amount given. Please consider checking with your company to see if they also will match your donation.
•    How will EYFO use the GIVEBIG Funds?
We will use your generous donation to fund our college scholarship and capital campaign building fund.
2020 GiveBig Campaign May 5-6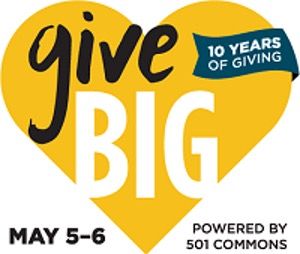 The financial crisis caused by COVID-19 put the organizations that benefit and serve our communities at risk. In an effort to provide immediate aid, GivingTuesday announced #GivingTuesdayNow, a day of unity and giving which took place May 5-6, 2020.  Empowering Youth and Families Outreach participated in this awesome opportunity, reaching out to our community to help raise funds.
The Covid-19 pandemic left no community, individual, or organization untouched.  EYFO is no exception to this, the opportunity to raise funds via GiveBig was very helpful enabling us to support our childcare student's families.
The #Nonprofit Matching-Fund Initiative was a collaborative effort of Nonprofit Hub, Do More Good and Firespring to unite and heal communities everywhere in tandem with #GivingTuesdayNow. 
Click here to get result for GiveBig 2020 Campaign
Capital Campaign "EYFO Building for the Future"
We are very excited about our next fundraising efforts in 2021 and look forward to your support.  
Our vision and passion is to increase the number of students we can accept into our program, changing lives one child at a time. To do so we have launched a capital campaign to raise funds for a building where we can expand our outreach programs and serve more of our community. The fundraising efforts in 2021 will be a key part of this effort. Please stay tuned for more information.
EYFO "Oh the Places You Will Go" Auction
Thanks to you, our 2017 "Oh the Places You Will Go Auction" raised $14,000. Because of your generous bids we create our first scholarship fund (EYFO College Scholarship).  Of the $14,000 we applied $10,000 to the scholarship fund. The rest of the funds went to the educational trip to New York City and Washington DC, covering some of the transportation and housing expenses for the 23 youth who went on that trip.