College and Career Readiness Program
EYFO College and Career Planning Program, nicknamed "Cop Every Opp" (CEO), teaches youth that they are the Chief Executive Officer (CEO) of their future and supports them in taking advantage of every opportunity available to them.
CEO is committed to counteracting achievement statistics for the youth of color by introducing them to opportunities that will increase the possibility for future success.  CEO partners with high school youth, walking them through the process of pursuing the career path of their choosing by:
Providing post-secondary planning, advising, and support
Walking each youth through the college admissions process.
Providing funding to help with college application and testing fees.
Providing help in crafting and editing college and scholarship essays.
Emphasizing opportunities that can assist them in achieving their goals.
Helping them to search and apply for college and scholarship opportunities.
Over the years EYFO College and Career Planning Program has taken 69 youth to Los Angeles, New York, Hampton, and Washington DC on college and university tours.
2022 College and Career Readiness Graduating Students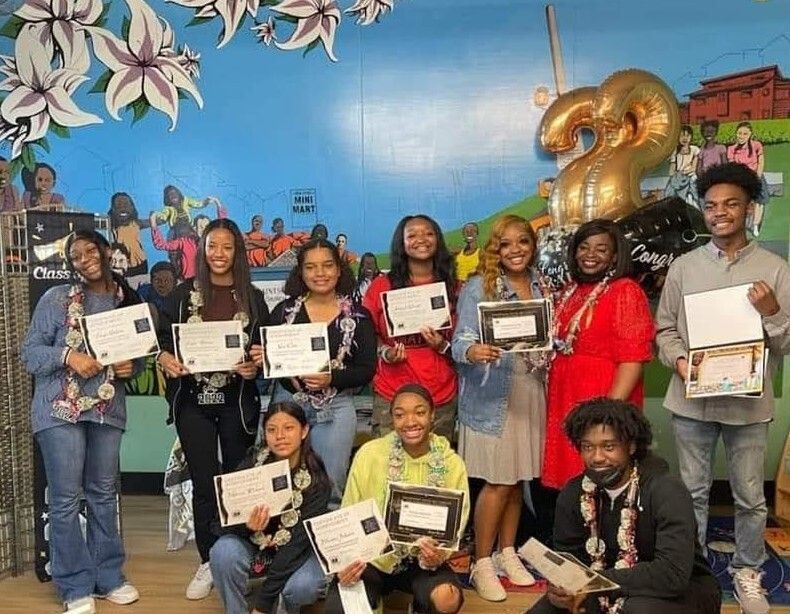 Empowering Youth and Families Scholarship Fund
In 2016 The Empowering Youth and Families Scholarship Fund was started to advance EYFO's mission of "making a lifelong impact in the lives of youth by offering multifaceted programming that raises leaders who are empowered to achieve their dreams."  In 2022, EYFO awarded six scholarships to eligible high school seniors who were EYFO alumni and planned on attending a two or four-year accredited college or university. Awardees were selected based on academic progress, community service, and a desire to continue their education.
This stellar program, led by the hard work and dedication of the Program Director, Taylor Shoecraft, resulted in our students receiving acceptance letters from 37 institutions of higher learning in 2022!
To better understand the impact of this life-changing program, please read the following quote from one of our 2022 scholarship winners, Ms. Trishaunie Lewis.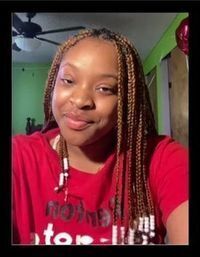 "I am forever grateful for the connections, memories, and opportunities that have been granted because of the blessing that this organization is… During my schooling, I have always been an ambitious and confident student, knowing that I could get any and every opportunity out there I wanted with the right amount of hard work. Although this is usually a desirable trait in a young mind, growing up as a minority in the Renton school district, I wasn't met with encouragement for my ambitious thoughts. Nor was I motivated by seeing people in higher positions that looked like me.
My teachers and advisors often told me I should dream more realistically and lower my standards. I was fed a mindset that I should stay in line and be reasonable about my future. In the long run, I feel that this dimmed my light and motivation to hope for a bright instead of average future as I moved into high school.
That is until I met Taylor Shoecraft and saw her light of selflessness and love. She then welcomed me with open arms and began keeping me posted about academic opportunities she had coming up, such as the Young Gifted and Black conference at the University of Washington.
I started attending meetings and befriending the bright young minds that occupied the group. Seeing Black kids hungry and excited to do incredible things after high school reassured my younger self that I deserve a chance to execute with my full potential in mind.
EYFO showed me that Black people could accomplish everything with the right work ethic and support system looking out for them. And with an end goal of being my vision of black excellence paired with the example of excellence that EYFO has set for me in my life, I know that this scholarship can help me make a change in the world by pushing those same standards onto my African American peers.
Getting a scholarship from the same organization that helped my motivation to be great during high school means a lot to me. I promise to do great for not myself and anyone else I can get my hands on!"
CEO Support Service Photos
Additional Benefits of the College and Career Readiness Program
Guidance and Support
Through our Saturday support and 1:1 Senior Support Sessions (currently held virtually) youth receive assistance applying for different opportunities as well as  hands on coaching through the college admission processes. 
Removal of Barriers
CEO actively seeks to remove barriers to participation through providing transportation to events as well as covering participation/application fees for low income youth.
Focus on Your Future High School Student Stipend
To support high school students during this unprecedented time, Empowering Youth and Families is offering a stipend to high schoolers who make a commitment to invest time into their future, academics and community.
•    A monthly stipend, in the amount of $500 will be awarded to qualified high school students who meet their monthly commitments. 
Eligibility Requirements:
•  A Commitment to Academics by obtaining a GPA of 2.5 or higher (Should GPA drop below the requirement youth must engage in provided tutoring to continue receiving stipend)
•  A Commitment to Service by engaging in one of the EYFO service options that will be provided upon acceptance
•  A Commitment to Self through engaging in any one of the following enrichment activities;
       •  EYFO's Thursday Youth Group
       •  Monthly events like College fairs, financial literacy, mental wellness sessions, etc..
       •  Tutoring (Tutors will be provided at no cost)
Selected students are required to complete an initial one on one to complete their monthly plan and discuss service options. Additionally, participants must complete monthly one-on-one check-ins and a monthly reflection sheet to receive a stipend. 
Application
The application and supporting documents must be submitted via email to tshoecraft@eyfo.org.
•  Completion of CEO Enrollment form found here (current CEO Youth need not complete).